Presenting with Bill Dod on Brexit and Election Nights

Presenting and reporting on news and sport

Presenting and reporting on RT Sport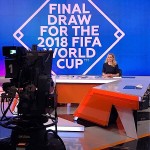 Could England, with their Premier League stars and talented youth, or hosts Russia, with their semi-final target, cause an upset at the 2018 World Cup?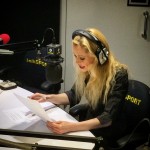 Kate reads the news and sport at talkSPORT, recorded at 0900 on Saturday 21st November 2015, during the Weekend Sports Breakfast

Kate joins Lynsey Hooper and Kait Borsay to discuss football's best love-ins, the latest top four predictions, and inspirational team talks in Episode 27 of The Offside Rule Podcast

With Barcelona and Sevilla in the ascendancy after part one of Europe's semi-finals, Kate's eleventh Offside Rule Euro Bites blog looks at the enduring power of a champion's mentality

It's advantage Iberia after the first leg of the European quarter-finals and a shock bad week for Germany's all stars, in Kate's tenth Offside Rule Euro Bites blog

After Everton's defeat in Kiev, England have failed to produce a European football quarter-finalist for the first time since 1993. Kate asks if a strong domestic league means continental weakness, in her ninth Offside Rule Euro Bites blog

After a disappointing week for all but one of the UK's teams in European football, and a mixed domestic weekend, Kate's eighth Offside Rule Euro Bites blog asks: is it all worth it?

Kate champions the second-tier tournament in her seventh Offside Rule Euro Bites blog, after a mixed opening week in European football's knock-out stages

The draw for the knock-out stage is the focus after Week Six in Europe. Six Brits are in the pots along with Europe's grandees and new stars but without some headline casualties, as Kate discusses in the Offside Rule Euro Review Show

After a crunch Week Six in Europe, six British teams are into the knock-out stages, but not five-time champions Liverpool. Kate suggests there's been a continental shift in the nation's best in her sixth Offside Rule Euro Bite Review